Are You Looking for a Jungle Retreat and the Tranquility of No Cars and No Electricity?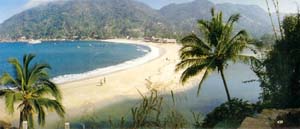 Yelapa is a small fishing community of about 1,500 people located on Mexicoís Pacific coast just south of Puerto Vallarta. The village has no electricity, no roads and no cars -- making it an almost unique tropical paradise. Traffic, noise, pollution, crime and the stresses of the modern world are all far, far away.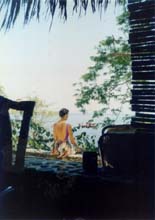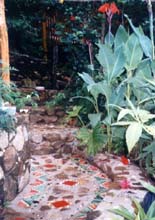 Tropical flowers abound in Yelapa and a spectacular jungle surrounds the astoundingly beautiful shoreline. The village includes several local restaurants, a small post office, three small groceries, and once a week, an open-air disco that plays American music. Some fifty American expatriots -- artists, writers, musicians and beachcombers make Yelapa their home full or part-time. Transportation is by foot, burro, horse or donkey.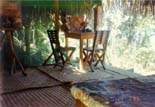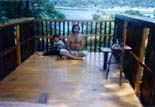 Our house is situated just twenty feet from the ocean in the middle of a lovely coconut grove splashed with Beaugonvillias. The compound is made up of four palm-roofed palapas (casitas) linked together with walkways: a main house with kitchen equiped with a propane stove and refrigerator, a living area and sleeping loft, an artist studio/house and a guesthouse with a double and single bed. It is truely a paradise in paradise, with rock gardens and a special, uniquely artistic design.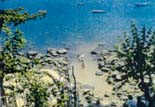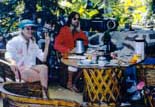 The only way to get to Yelapa is by boat. You can take the nativeís outboard supply panga, the more thrilling ride, or you can catch one of the ferries that bring tourists here every day for a few hours of beach bumming. Either way, itís a three-Corona cruise down the coast from Puerto Vallarta, past jungled mountainsides that drop into the Mexican Pacific, past the Indian outposts at Las Animas and Quimixto, then John Hustonís slumbering Las Caletas.

Yelapa swings into view around a final rocky point, a flash of thatched roofs and coconut palms at the foot of the bay, a village of uncertain size played out beneath a waterfall, a stretch of tawny sand with a lazy lagoon behind. No Hiltons here, itís plain to see.

HOW TO GET THERE!

Fly to Puerto Vallarta. Try staying at the Rosita Hotel, an interesting local hotel close to everything, with a restaurant , a bar and a nice swimming pool. It is inexpensive, and located right on the beach. The boat to Yelapa departs daily right beside the Rosita at 11:30 am.

Alternately, you can take a taxi to the Boca de Tomatlan and hire a private boat there any time of the day (about $25), but you should leave before 6 pm. The boat will take you to the rocks right in front of our compound.

The rainy season is from May to November, yet it is the most beautiful time of the year. Everything is so lush and green.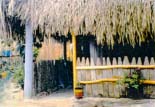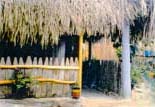 Make Your Reservations Now!
$500 per Week or $1100 a Month.
Call or write for more information:
YELAPA RETREAT
2714 Coliseum St.
New Orleans, LA
70130

Telephone: (334) 414-0745

anton3@earthlink.net