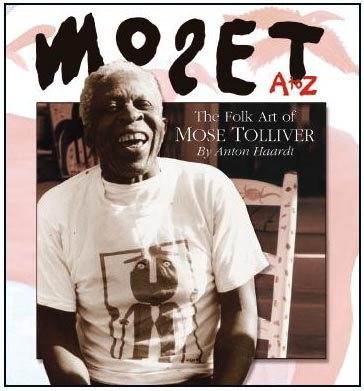 Mose T from A to Z: The Folk Art of Mose Tolliver
---
This beautiful full color, 96-page volume is now available at the Anton Haardt Galleries at 1226 South Hull Street, Montgomery, Alabama, and 2858 Magazine street, New Orleans, Louisiana. Also available at the Mandy Bagwell Art Gallery and Stonehenge Gallery in Montgomery. Please see our phone numbers and email below.
---
BOOK REVIEW:
Whether you refer to him as a self-taught artist or a folk artist, Mose Tolliver is a legend and an inspiration. Disabled when a crate of marble fell on his feet and legs, Tolliver turned to art in order to keep his head together.… But not everyone who practices art therapeutically gains the recognition that Tolliver achieved.
So how did Mose T, as he was known, transform from a gardener/housepainter/shipping employee into an internationally known and respected folk artist? The answer to this question can be found in Anton Haardt's book Mose T from A to Z: The Folk Art of Mose Tolliver.
Haardt and Tolliver could not be more different. As the Foreword notes, Haardt was an accomplished young woman from a socially prominent Alabama family… while Tolliver was a middle-aged, partially disabled African American painter.… But, they were both artists in Montgomery, Alabama. Haardt was drawn to Tolliver's pictures - with fantastical titles like Jimma Jamma Girl and X-Ray Dry Bones Charlie - which were often displayed in his front yard. Neighbors and artists would often pay him one or two dollars per picture.
In this collection of anecdotes and quotes from Tolliver's life, alongside an abecedarian compendium of some of his art, Haardt has given the world an opportunity to know Tolliver the way she did. Haardt even includes a timeline of important dates and exhibitions throughout Tolliver's career. Mose Tolliver died October 31, 2006. He was in his 80s. Haardt's book is a must-read for art lovers, as well as for those who think art is only for the wealthy. Mose T showed us all there is art in doing what you love and loving what you do.
"Mose T from A to Z" - Published by Saturno Press
---
AUTHOR'S NOTE:
I spent more than ten years working on this manuscript. The book is a first-hand view of Mose from the days when I chaperoned him and his wife to the Corcoran exhibit through his rise to national recognition in the folk art world. Folk art scholar Regenia Perry has contributed a preface on the significance and appeal of Tolliver's work. Lee Kogan, curator of The American Folk Art Museum in New York, has also written a wonderful introduction. I have included an essay along with stories and anecdotes from my close friendship with Mose. I've presented some of the finest vintage pieces in my collection in an A to Z format of one-of-a-kind Mose titles (J is for Jimma Jamma Girl - She does the wild dance). These high quality reproductions are complimented by multiple photographs of Mose at home with his family and working on his art. -- Anton Haardt

---
"In terms of the art history of our country, I would say in comparing Tolliver's work to Picasso - Mose's art is of equal value - you can hang beside a Picasso and you have the same kind of creativity and deep personal vision."
Robert Bishop, Director of the American Folk Art Museum
---
"Haardt leaves no doubt that Mose Tolliver has made a lasting contribution to the cultural memory of the South"
Jason Berry, Best Selling Author
---
"Locomotives behind artists are as necessary as the art itself, and thanks to Anton Haardt, many of our regional artists have been able to live and even flourish from their craft."
Nall - Artist, Writer, Director of Nall Foundation
---
"Bill and Hillary Clinton gave Ted and I a Mose Tolliver painting as a wedding present. I smile every time I pass it no matter what else my day has brought me. That's art."
Mary Steenburgen,
Academy Award Winning Actress
---
"I must thank Anton Haardt for sharing Mose's story with us. It¹s an excellent story and excellent journal of an amazing artist who will see fame in his own lifetime after a disaster that caused him to pick up a paintbrush ­ and share his inner thoughts with us."
Tyrone V. Banks, Author of "Under the Melting Pot"
---
"Mose T, A to Z is the first book dedicated to Tolliver's work... Haardt's true heart comes through in this book... a worthy investment for fans of Mose, aficionado's of folk art and curious readers everywhere".
Clarence V. Reynolds, "Black Issues" January - February 2005
---
"Haardt gives a brief, yet highly informative, definition on each of Tolliver's whimsical monikers for his paintings. This book should hold a special appeal for those who have come to know and love the old man on Sayre Street, and may capture interest of art enthusiasts worldwide."
Cane Bowden, "Kudzu Review," Montgomery, Alabama August 2004
---
Copyright © 1998-2008 ANTON HAARDT GALLERY
All Rights Reserved.
ANTON HAARDT GALLERY
2858 Magazine Street
New Orleans, LA 70130
(504) 891-9080
(504) 897-2050 fax
ANTON HAARDT GALLERY ANNEX
1226 South Hull Street
Montgomery, AL 36016
(334) 263-5494